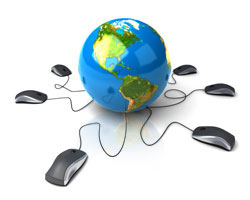 Web Design
Complete Online Management
For several years, the Winrock Media web design team has been producing websites that promote your brand, sell your products and build engagement. Our clients continue to refer us because of the service they receive.
We focus on simple, clean and easy-to-navigate websites that are optimized for a variety of computers and mobile devices. Visitors to your website expect to find the information they're looking for easily, so we work to make sure your message is clear.
Your website is one part of your overall online marketing strategy. Together with your social media, we work with you to integrate all of these pieces to create a strong presence that gets you noticed. Learn more about our Social Media Management services to increase your visibility.
Attract More Visitors to Your Website
With our ongoing website maintenance service, Winrock Media provides continuous support and consultation for growing and improving your website to boost your web traffic and search engine rankings.
Your Web Presence is Important
Every small business should be taking advantage of the internet. Winrock Media will design your website and help you get it online. Your site will be custom designed for your specific needs.
Hosting
---
Winrock Media provides fast, reliable hosting for your new or existing website for a low annual cost. Our secure servers are powerful enough to handle your customer traffic and applications such as e-commerce.
Maintenance
---
Winrock Media can create a custom website maintenance plans to keep your site active and updated. Offering visitors something new and fresh on your website is key to its success. Choose a plan that works for you.
Content
---
Our team can produce copy that is written to attract search engines to your website. Search engines partially base your search ranking by the types and amounts of regularly updated and relevant content you provide.
Looking for a Domain Name for Your Website?
Search for and purchase the perfect domain name for your website.